LibroAlegre – et oversættelsesprojekt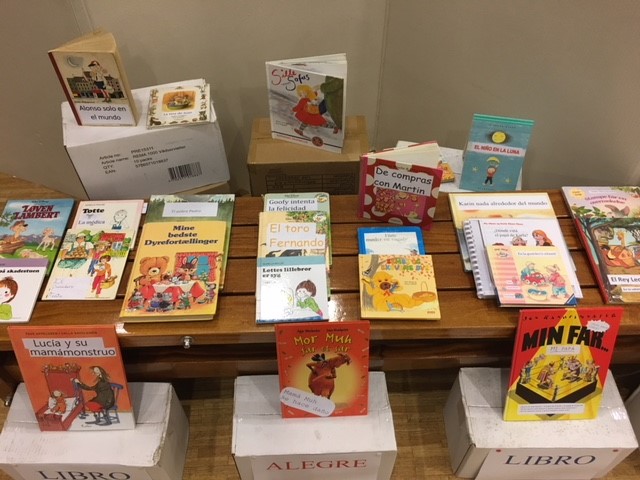 Oversæt en dansk børnebog til spansk
Formål med projektet
Træne Interkulturelle kompetencer
Træne innovationskompetencer
Træne formidlingskompetence
Træne ordforråd
Træne oversættelseskompetence
Anvendt materialer og målgruppe
http://tengbergmedia.com/portfolio-items/i-oejenhoejde/
Tilrettelæggelse
Se køreplanen længere nede
Instruktion til oplæg
Faglig læsning (medlæsning):
Orientér jer i det materiale som høre til "jeres barn". Hvad fortæller opgaverne og arbejdsspørgsmålene jer om barnet? Hvilke svar kalder de på?
Udvælg de af opgaverne som I finder mest spændende. Løs opgaverne, og spørg om hjælp, når I er i tvivl om svarmulighederne. Nogle af opgaverne rummer grammatik, I endnu ikke har lært. Dem må I muligvis springe over.
—————————————————————————
Lav et oplæg om "jeres barn"
Udvælg et citat fra materialet om barnet, og giv argumenter for, hvorfor I synes det er interessant, vigtigt?
Hvilke tanker vækker barnet hos jer?
Kommer du til at reflektere over dit eget liv og din tilværelse i DK? Hvordan og hvorfor?
Du skal holde et oplæg vha. power point, Prezi eller lignende. Det medie du vælger skal understøtte dit oplæg med billeder, væsentlige ord (på spansk), etc. til gavn for dine tilhørere.
Alle de oplæg I laver og lytter til, laver I med det formål at hver og en af jer bliver mere og mere klar over hvem jeres modtagere i Chile er. Hvem og hvordan er den målgruppe, som I finder børnebøger til og laver oversættelser for?
Hvert oplæg holdes på spansk og varer 10 minutter.
Instruktion til bogvalg
Tænk på modtageren. De udsatte børn i Valparaíso har ikke brug for at læse om prinser og prinsesser.
Vælg en bog med en god historie. Den gode historie lægger op til samtale. Tænk på hvad barnet kan have brug for at samtale med den voksne om. Jeres målgruppe vil typisk skulle have bogen læst op af en voksen, så vælg en bog, som lægger op til dialog med den voksne både under og efter oplæsningen.
Vær realistisk:
Vælg en bog der ikke er for lang og for svær syntaktisk og grammatisk.
Vælg en bog hvor teksten er adskilt fra billederne, så I ikke skal klistre oversættelsen henover billederne.
Hvilke bøger fik I selv læst op da I var små? Spørg jeres forældre, hvis I ikke kan huske det.
Hvor får vi bøgerne fra?
Det er bestemt lettest hvis I kan gå i egne gemmer og finde en bog som I vil donere til projektet. Gå tidligt i gang med at undersøge, hvilke muligheder I har for at finde en egnet bog. I kan også lede i:
Antikvariater
Bibliotekernes salg af gamle bøger
Venner, veninder og familie som har adgang til mindre børn, og som gerne vil donere en bog til jer og vores projekt.
SE køreplanen her i klassenotesbogen for at finde deadlines o.l.
/KK
Yderligere inspiration for lærere
https://www.youtube.com/watch?v=khFjP1zmf7Y
https://www.youtube.com/watch?v=dMrSW4l4TS0&feature=youtu.be
https://www.youtube.com/watch?v=bzzcqndAFq4
Moduler / deadlines

Indhold

Introduktionsmodul
Formål med projektet

 

Besøg på Svendborg Bibliotek i børnebogsafdelingen:

Samtale om ´den gode historie'

Eksempler på ´den gode historie´

 

Aftale med eleverne om realistisk deadline for valg af egen børnebog Eleverne skal selv på jagt hjemme, i antikvariater eller hos venner efter den børnebog de vil oversætte. Hvis bogen er lang, må de gerne arbejde flere sammen om oversættelsen.

1. modul
"I øjenhøjde – Hablan los niños de Valparaíso, Chile

 

http://tengbergmedia.com/i-ojenhojde-film/?auth=TM001

 

I gang med oplæg.

Formål: Kendskab til målgruppen.

2. modul
Parvist arbejde med oplæg. Eleverne planlægger og aftaler selv deres lektiemængde og distribuerer deres tid i forhold til aftalte deadlines.
3. modul
Parvist arbejde med oplæg. Eleverne planlægger og aftaler selv deres lektiemængde og distribuerer deres tid i forhold til deadlines.

 

 

4. modul
Elevoplæg gennemføres for lærer og resten af klassen.

 

Samtaler om målgruppen på baggrund af elevoplæg: Hvad kendetegner den? Hvad har de tilfælles? Hvad adskiller dem fra danske børn? Hvad har danske børn og udsatte børn fra Valparaíso, Chile tilfælles?

Hvad er ´den gode historie´?

5. modul
Cuentos – fokus på aspekt: to datider på spansk. Arbejde med grammatikbogen.
6. modul
Cuentos. Imperfektum og præteritum (aspekt)
7. modul
Cuentos. Dealine for godkendelse af bog til oversættelsesprojektet.
8. modul
Cuentos.  Imperfektum og præteritum (aspekt)
9. modul

 

 

Libro Alegre. Vi begynder på oversættelsesarbejdet. Der arbejdes parvist med den samme bog eller parvist med hver sin individuelt valgte bog. Dvs. Alle har en samarbejdspartner.

 

 

Fokus:

Oversættelseskompetence

Interkulturel kompetence

10. modul
Oversættelsesværkstedet:

 

Projektplan: Kan man spise en elefant?

– ja, hvis man deler den op i mange mindre bidder: Om at komme i mål med sit oversættelsesprojekt.

11. modul
Oversættelsesværkstedet (3. + 5. + 6. modul, incl. pizza).

 

Medbring selv drikkevarer.

12. modul

 

 

 

 

 

 

Deadline for godkendelse af oversættelse

 

 

Lærer uddeler særligt klisterpapir indkøbt til oversættelserne, så de kan holde til at blive brugt selv om børnene i Chile kommer til at savle på dem 🙂

 

Papiret er identisk med de "ruder" der kan købes til at påklistre adresse på breve. Papiret fås som A4-ark.

 

Eleverne printer og placerer oversættelserne korrekt i bøgerne. Pas på billederne (!) Lav et prøveprint på almindeligt papir, inden I lægger det dyre klisterpapir i printeren.

13. modul
Skab dialog:

 

Hvem er oversætteren?  Eleverne skal skrive 10 linjer på spansk om sig selv, om deres valg af bog, om deres arbejde med oversættelsen.

 

Linjerne printes og klistres ind i bogens forside, så de chilenske børn kan læse lidt om, hvem der har oversat bogen til dem. Skriv interessant = det der betyder noget for jer, ikke hvordan I ser ud.

 

Fokus: Skab dialog
Udstilling
Elevernes oversættelser blev udstillet et centralt sted på Svendborg Gymnasium, inden de blev lagt i en kasse og sendt til Chile med DSV.
Faktura
Læreren opfandt en faktura til brug for tolden i Chile:
Faktura: LibroAlegre
Dato: 20. november 2017
Afsenderinstitution
Svendborg Gymnasium
A.P. Møllervej 35
5700 Svendborg
Denmark
Att: Kristina Knappe
Modtagerinstitution:
Biblioteca Libroalegre
San Enrique 339A
Cerro Alegre, Valparaíso
Chile
Att: María Antonia Carrasco
Emne: Fragt af kasse med børnebøger
Kassens mål: h 34 cm x b 28 cm x l 39 cm.
Kassens vægt: 8, 432 kg
Indhold: 34 børnebøger til en værdi af 0,00 kr.
Formål: Gave